A Tribute to Rich Sephton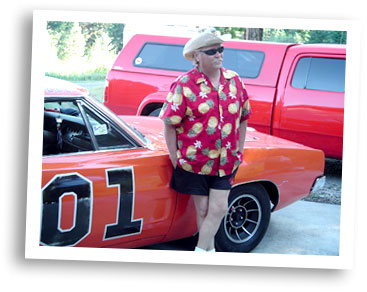 Rich Sephton was known to many as the real mechanic of the 'General Lee'. Rich was the Warner Bros. shop foreman during the 1980's on the T.V. series The Dukes of Hazzard. He had also worked on many other shows including, Rockford Files, T.J. Hooker, Hart to Hart, The Blues Brothers, The Incredible Hulk, and Pale Rider. It was during the mid 1980's that Rich built the one and only 'Stand Up General Lee', a 1969 Charger 'General Lee' wheelstander that was featured in Popular Hot Rodding magazine, November 1985.
Rich always loved cars and had a long history with racing. He had raced his RO23 Belvedere and had been involved with top fuel dragsters, where he met Don Prudhomme, " Big Daddy" Garlits, and others.
Rich has worked with us here at Smith Bros. Restorations on several projects and has been a great source of advice and information, but his friendship will be missed most of all. Our love and prayers are with his family. We love you, Rich!
[ CLICK HERE to view our Photo Gallery Tribute to Rich ]